Why do you need Fully Managed Hosting?
I have been a developer for over 30 years, specializing in WordPress for the last 12. In that time, I have seen all the problems that my clients have experienced with hosting companies. They often have to ask me for help just to translate what their hosting company is saying, because it seems like no one at these companies can manage to speak in normal words!
These kinds of experiences leave my clients frustrated and unhappy. Their sites crawl to a halt or crash entirely just as they are having a post go viral or right after they send out a big e-mail. Worse yet, I get calls from clients in tears because their entire site went down without warning during the busiest time for their business.
Even when they have servers that are have decent security and uptime, they find themselves frustrated after the site breaks and the host is unable to help, or when they have questions and have no one to turn to. Worse yet, some hosts offer to help but instead proceed to break the site further because the technician is in over his/her head.
You may have never experienced these problems in your business to this point, but the first time you experience a site crash or road bump, it can be confusing, frightening and demoralizing … and the problem is nearly always unexpected.
And if you need more proof, just do a quick search on Twitter: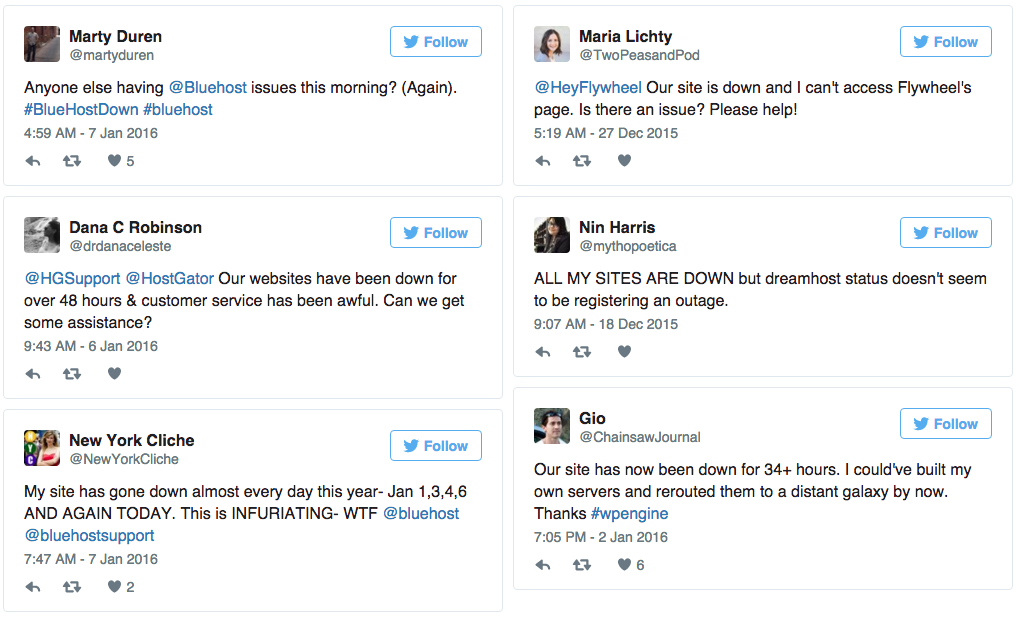 I've been watching this situation unfold and evolve over the past few years, and what I have seen has convinced me to start a different kind of hosting solution — one where the solution to hosting wasn't a simple purchase of space in the cloud, but a partnership between a business owner and tech support that enabled the business to run smoothly and trouble-free.
Sure, you'll get all the regular features that come with managed hosting (and I'll tell you more about those further down on this page), but if you asked my current hosting clients, these are the things they talk about the most:
Complete Backups
Whether you installed something that didn't go right or an update didn't agree with your site, we have you covered. Each database is backed up locally for fast restores if you ever need them, and a full backup is stored offline just in case you've deleted something. Additionally, your account has a mirror — a sister drive with a copy of the cpanel that can be restore, either entirely or partially, when needed.
Security
Your site and server will be secured by multiple methods to ensure those hackers stay out of your data, and your good name is never tarnished. I analyze the security on each site and tailor it to the site's unique needs, so you know it will be secured by an expert who knows your site! The hardware itself is kept updated and secured, and it has automated periodic scans to make sure all files both within and outside of WordPress are safe.
Super Fast
When it comes to success online, speed does matter. I have tested sites on most popular servers and experimented with them on my own servers to create a configuration that is optimized for speed. Slow sites lose visitors, have dropped carts, and see decreased Google rankings. Frustrated visitors do not become customers! Your customers will remember your site for it's easy, frustration-free service.
Uptime Guaranteed
We have an amazing track record for uptime over the last 2 years for our hosting family, and we have the built-in redundancy to keep it that way. We've also included cushions on each of our servers to allow for expansion during high traffic loads. Our servers aren't overloaded and we only take hand-selected clients, so you're not sharing space with spammers or hacked accounts.
NEW! Caching & Optimization Services
New for 2017, all full-service accounts (at the Essentials level or above) will get site caching and optimization services included FREE. Your site will be analyzed for it's functionality and caching needs, and optimization will be applied where it will not interfere with the function. These services will not only protect your site from that next viral post, but will also greatly improve your site's performance for all desktop, mobile, and repeat visitors.
"Managed" vs "Fully Managed"
Other managed hosting companies are mainly concerned with managing their server, not your site. If your site is using a lot of server resources, you'll get a stern letter from an administrator or an extra charge on your bill. If there's an update required, they will automatically force it on you — whether or not your site can handle it. And if the whole server goes down or is performing poorly, oh well, you can wait until they fix it (IF they fix it!) with no given ETA.
We See Management Differently
If your site isn't running well, we'll work together to improve your site's performance. If your site breaks on update, we'll zip your site back to the pre-update state and discuss what we can do to get the site up to speed. If you're running a plugin that has a known problem, we'll contact you proactively and solve it before any problems erupt. There are no confusing emails from tech support with instructions you don't understand or vague terms like "exceeding resources" here.
Your On-Call Tech Team
We're not just interested in hosting your site. We want to be your partner to keep your business running. You don't have time to research technical problems on Google or sit on hold with support staff. If you have a question or an issue, you just send us a quick e-mail and you know it will be handled. There are no "silly questions" here — just a team ready to assist you with the technical needs for your business.
I have been asked "Why should I choose this over something like WP engine, flywheel or Bluehost? Those people have a whole bunch of people working there to help me." The thing is though, if you've ever tried to contact support at these places, you'll know just how alone you are. It can feel very much like you vs them. With this hosting, you're never alone. You have a dedicated contact point to handle all issues for you, backed by layers of support staff, network support, and server monitoring. Having a bridge between your needs and the backend technical requirements of the site and the hosting creates a very efficient system for troubleshooting and addressing any problem.
Support staff at hosting companies are not WordPress experts — but we are.
We can quickly determine if your problem is a code-level issue or server-level issue, and address it appropriately. We know your site already, and know what it should look like when it is functioning optimally.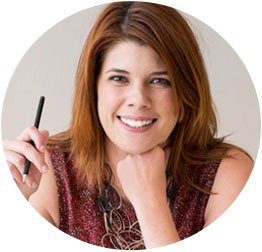 "I switched from Bluehost to work with Nikole's team, because I'd heard a lot of horror stories from other business owners about their sites crashing or data being lost during what seemed to be a routine WordPress update. It had never happened to me, but I wanted to act before I had a crisis on my hands. Now that I've experienced managed hosting, I'll never go back! I love knowing that Nikole's team has my back … they stay up to date on security issues and WordPress updates, so I don't have to. Plus, it's really nice knowing I can email their team and get a response from someone who knows me and my account."
— Brigitte Lyons, CEO, B Think Forward
Options, Not Restrictions
This is not hosting with a long list of limitations.
With feedback from our clients, we've created packages based on the ability to expand to your needs:
DIY
Up to 4 WordPress Installs/Databases

High-Speed WordPress-Optimized SSD Servers

Up to 15 GB of Server Space

Up to 10,000 Visits per Month

Self-Maintained Backup and Security System

Free SSL Certificates

Full Access to Your Site & Files

Available Speed Optimization (extra)

24/7 Monitoring

No Software Updates

No Included Site Move
Essentials
Up to 2 WordPress Installs

High-Speed WordPress-Optimized SSD Servers

Up to 10 GB of Server Space

Up to 50,000 Visits per Month

Complete Backup System

Free SSL Certificates

Full Access to Your Site & Files

Security Audit & Lockdown

Speed Optimization and Caching

24/7 Monitoring

Software Updates

Free Site Move & Onboarding with 4-month minimum
Multi-Business
Up to 4 WordPress Installs

High-Speed WordPress-Optimized SSD Servers

Up to 20 GB of Server Space

Up to 100,000 Visits per Month

Complete Backup System

Free SSL Certificates

Full Access to Your Site & Files

Security Audit & Lockdown

Speed Optimization and Caching

24/7 Monitoring

Software Updates

Free Site Move & Onboarding with 3-month minimum
High Traffic
Up to 2 WordPress Installs

High-Speed WordPress-Optimized SSD Servers

Up to 30 GB of Server Space

Up to 200,000 Visits per Month

Complete Backup System

Free SSL Certificates

Full Access to Your Site & Files

Security Audit & Lockdown

Speed Optimization and Caching

24/7 Monitoring

Software Updates

Free Site Move & Onboarding with 2-month minimum
Frequently Asked Questions
Do these plans include any coding hours?
These plans do not include any coding hours BUT you can add 2 hours of coding per month at a discount rate of $150. That's a $50 savings from the regular rate!
Note: Coding hours must be paid monthly with your hosting bill. Any additional development work will be quoted at regular prices as needed.
Do these plans include e-mail?
While we do strongly encourage our clients to use Google Apps due to Google's advanced features and spam filtering, we do also offer e-mail service as long as the e-mail is kept under your file storage size limit.
We use Google Apps ourselves for all our e-mail, calendaring and file storage needs however, and can help you set up Google Apps if you would like.
How do I know how much storage I need?
We'd be happy to look at your current hosting and let you know how much space you need, as it can sometimes be hard to tell if you have unnecessary files in your current account or if your current host doesn't calculate the folder sizes for you.
How do I know how many visitors I have?
The visitors are calculated according to the server counts using a program in your cpanel like AWStats. If you don't know how many visitors you are currently getting, we'd be happy to help you figure it out.
Google Analytics, while useful for the purpose of tracking marketing, is not used for overall visitor count as it excludes some visitor data.
What happens if an update breaks my site?
Immediately before each update, a backup is taken of your site. After each update, you will be notified that updates have been made and to go look at the site. (We look at it too, but we'd like to give you the opportunity to click around as well.) If anything has broken, we will work with you to determine if restoring from a backup is the best course of action. If so, we will provide the restore service at no charge. If the best course of action is to change your site to work with the newer version of the software, we can help you with that at the regular rate for coding.
What is SSL? Are there limitations to the free SSL certificate offer?
SSL is a technology that allows your site to display over https instead of http. It is currently used in many popular sites like Facebook and Twitter, and is currently recommended by Google for all websites for security and better ranking.
You will get a free SSL certificate for all www and non-www versions of your domain, but not subdomains. For example, if your domain is my-domain.com, you will get a SSL certificate that is valid for www.my-domain.com and my-domain.com, but NOT something like dev.my-domain.com or newsubdomain.my-domain.com. If you have more than one domain tied to your account, you will receive a SSL certificate for each domain.
This other hosting company says their plans are managed too. What is the difference?
We believe in fully managed hosting. What does this mean? It means that a real, live person will perform your site maintenance and then inspect the site for functionality post-update. We are not just clicking a bunch of buttons from a remote control panel (or, doing automated detection of an update needed and automated application of the updated). We are on your site, working with it directly to make sure it works as intended.
While other managed WordPress hosts will update your server and WordPress, what about your themes and plugins? We update both of those, but this is uncommon on a regular managed WordPress account.
What will they do if your site can't handle an update? The answer is that they will do what is best for their server, not best for your site, and they don't have the expertise to help you through a difficult update. They also don't have the ability to rollback updates other than restoring the site from whatever the last backup point was – which could be hours or days before the update, causing you to lose any content changes that occurred between the backup and the rollback.
Note: If you opt for the DIY package, you will be responsible for your own updates.
Are there any contract requirements or early termination fees?
Nope. You pay month to month and you can cancel any time.
The only exception is for people who pay for bulk months in order to get a free site move. Those can be canceled at the end of the billing period.
Do you offer pro-rated refunds?
Sorry, we're unable to offer refunds for partial months. If you cancel hosting, your hosting is valid until the day when your payment would have autobilled. You can move your site away at any time before it is canceled and suspended, but you will not receive any credit for unused days in the billing period.
What if I need help?
If you're having a problem, just drop us an e-mail. Priority is given to urgent problems but we do make sure everyone is taken care of.
Questions? Feel free to ask those too! We'll be glad to help out with some answers if you're not sure of something. We'd rather help you with your site (and save you some money) by preventing a problem instead of having to solve one after something breaks.
Want to know if Fully Managed Hosting is right for you?
Tell us about your hosting needs and we'll help you figure it out!