2013 is the year I give up my trusty ol' notebook and pen for something more efficient, so I am turning into a convert with a new iPad mini. To start off right, I have been testing a bunch of apps and have decided to share my favorites with you!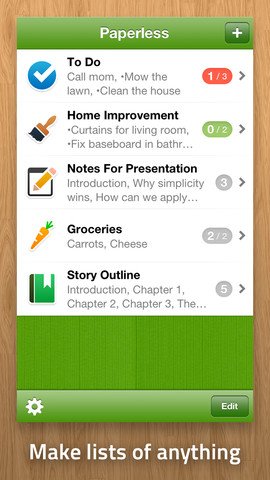 Paperless
Some people love mindmaps, but I need something more linear. Enter Paperless, where I can make lists for future blog topics, product ideas, collaborations and more! Learn more »
Todo
I am loving this app for project management — I can sort my tasks by priority, due date, and project to see everything I have coming up. Plus, it has reminders for each task that pop up on my iPad when it is asleep, so I can quickly remind myself what I am working on without getting into the app. There are also versions for Mac OS and iPhone, so you can sync tasks across all devices. Learn more »
Dropbox
Many of these apps back up to Dropbox, so getting a free dropbox account is a good idea in case anything happens to your iPad. Learn more »
Gratitude Journal
I have been using this app for about a week now, and I have to say my day starts out 200% more productive when I spend 5 minutes in the morning just thinking about the things that I love in life. Try it — it works! Learn more »
Chrome
If you need an alternate web browser with built-in Flash emulation (Safari will not show Flash content), you will need Chrome installed on your iPad. Learn more »
The Bonus App: Bejewled HD
Okay I know this has nothing to do with business and productivity … or wait, does it? I find that my biggest problem in business is faith — faith in my decisions, faith that the right path will present itself when I need it. I feel like this game is an exercise in faith for me, because I force myself to make decisions quickly, trust in my decision, and let the chips fall where they may. Try it next time you feel yourself questioning your decisions or feeling uncertain about the future. Learn more »
What apps have you experimented with lately?