This post is the second in the "How They Do It" series, where I will be featuring entrepreneurs and the solutions they are using to launch and run their businesses.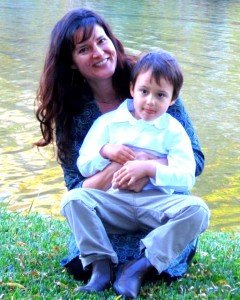 In this edition, I'm chatting with Amy Friend. Amy Friend is the heart and hands behind all the designs at Amy Friend Jewelry. Creating jewelry has always been a part of her life — in fact, it took her many years to embrace the obvious fact that it is one of those things that makes her come alive! From the work bench to the hands of happy customers, Amy loves the process of creating jewelry that reminds women of their strengths and beauty.
[Nikole] Most people who see your site mention that they love the photos. Can you tell me how you created your own light box for shooting the pictures of your product isolated on white?
[Amy] After trying out a few light boxes, I decided to make my own with a 12×12 box that I had on hand. I cut out 3 sides, painted the inside white, lined the "windows" with bright white paper, and lined the inside with photo-background paper. I'm a big fan of natural light, and luckily we have lots of sunshine in Central TX. All of my product photos are taken on my front porch in natural light, usually with my 4 year old building lego towers all around me!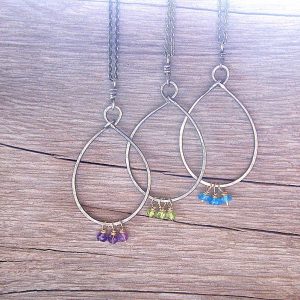 [Nikole] I love all of the pictures you take outside, either with your model or on the rocks. Do you use a photographer for those or take them yourself? And, is there certain weather, environment or staging you look for?
[Amy] All of the model photos are done by my good friend, Ana Johnson. My jewelry is inspired by the simplicity & colors of nature, so the San Marcos River is the perfect backdrop for these photos.

As I mentioned above, the product photography all happens on my front porch. Wood & stone backdrops are lot easier to orchestrate, but the photos typically get a little less mileage on my website. I strive to keep a streamlined white background there, but use the natural backdrops on Facebook within my newsletters.
[Nikole] What do you use to edit your product photos? Do you have any tips for editing?
[Amy] I currently use Picasa. It's low tech, and I really like that! If I take my photos at the right time of day, I don't need to do much editing.
[Nikole] Your site started out with ECWID and now is using the WooThemes Canvas theme with WooCommerce … how are you liking the switch?
[Amy] WooCommerce has been easier to modify to my liking, especially with the help of That Super Girl.

WooCommerce has all the features that I was looking for without the monthly fee.
[Nikole] If someone would like to purchase one of your lovely pieces of jewelry (in person or online), how can they find you?
[Amy] Website: amyfriendjewelry.com & Facebook: http://www.facebook.com/amyfriendjewelry
Thanks Amy! I hope you guys enjoyed those tips, and find ways to use them in your own business. If you want to learn more about making your lightbox, or you want to know how to edit your lightbox photos in Photoshop, please see this tutorial. You can also see this tutorial on making a light tent if you don't have good natural lighting. Questions or comments? Please feel free to ask below!