This post is the sixth in the "How They Do It" series, where I will be featuring entrepreneurs and the solutions they are using to launch and run their businesses.
In this edition, I'm chatting with Sarah Prout. Sarah Prout is the co-founder of
Älska Publishing
,
Verbii.com
and the
Adventures In Manifesting
series. She is also an award-winning entrepreneur. Her bestselling book
The Power of Influence
(Wiley, 2010) has been sold internationally and translated for European distribution. Sarah's love for metaphysics, design and business empowerment shines through in her writing and teachings. Since 2006, Sarah has built an impressive international media and client portfolio inspiring people to create their own reality. Sarah reaches over 55,000 followers in over 24 countries around the globe with heartfelt, vibrant and empowering advice about love, business and style.
[Nikole] You seem to have really taken the lessons you have learned as an entrepreneur and applied them to your latest venture, Verbii. How has personally going through the experience of publishing helped you to better understand the needs of upcoming authors and better serve them? Do you think you would have been able to produce such a strong service for others without struggling through it yourself?
[Sarah] Great question! I think to truly create a service that is going to help other people, you really need to come from a place of experience in understanding your ideal customer's needs and desires. The essence behind Verbii was created from a giant need in the marketplace for more freedom for writers create books without all of the nasty red tape attached (contracts, watermarked files etc). I don't think I could have created Verbii.com if I hadn't experienced publishing from nearly every angle possible. I've been traditionally published, self-published and have worked with over 157 authors from around the world to publish their stories. The beauty of Verbii is that we have taken the best aspects of publishing and made it super-easy for people to bring their ideas to life in book form.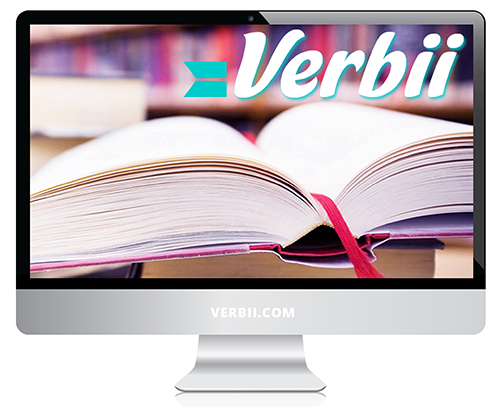 [Nikole] Your site uses a WordPress theme called Rover. Can you tell me why that theme was chosen and what you liked about it?
[Sarah] We worked with a web design team to bring our vision to life. One of the reasons we chose Rover was because of the flexibility and the ability to customize it to our needs. Lots of clean white space is always very important to me when designing a site. We were heavily inspired by the Apple look and feel.
[Nikole] I know that you have a love for fonts, and your site reflects that by using Google Webfonts. How has this change in technology in the past few years – this move to webfonts – made it easier than ever to have a pretty (but functional!) site?
[Sarah] Yes I do love fonts! I think Google Webfonts really help to enable the aesthetic philosophy of 'clean design'. We've got a bit of a crush at the moment on Open Sans. It's bold, edgy and fresh. This is something that helps to communicate our message in an effective way. People should never underestimate the power of typography. It helps to sculpt the perception of brands right from the get go.
[Nikole] Do you use any sort of system or specific software to manage the team for Verbii?
[Sarah] My business partner and fiance (Sean Patrick Simpson) is the master of systems behind the success of Verbii.com. We use so many different services and it's really great to be able to support them and see their powerful integration points. We use Office Auto Pilot for eCommerce, MavenLink for project management, Base for CRM, Wufoo for uploads, Google Hangouts for team meetings (since we're all virtual at this stage) and Hootsuite for social media management. Behind every great business is a gazillion different support systems for sure. This is just a few of them…
[Nikole] You use a lot of great photos on your new site, Verbii, to make a strong visual impact. Do you have a favorite place for purchasing photos? Do you have any suggestions on how you locate the right photo to set the mood for the content in that section?
[Sarah] We used a lot of Fotolia.com stock imagery and it was quite a huge task to sift through them and find the right ones that could communicate and support our new brand stylistically. I modified some of them myself in Photoshop and we wanted to make sure they they flowed nicely with the copy on the Verbii.com services page top. The process took a few weeks to decide on the right images to use. They all needed to relate to the theme of publishing, be vibrant and bold as well. Then we needed to create a mock-up website in Photoshop for our web team to splice into html. It was a lot of fun.
Thanks to Sarah for a great and insightful interview! You can learn more about Verbii publishing at Verbii.com.
And if you have any questions, feel free to ask below!