I thought about calling this post "how not to buy a domain" but I thought this sounded better. In any case, I've been doing development for a long, long time and I've dealt with all kinds of horror stories surrounding domains. To save you from the trouble I have seen and experienced, I wrote this post.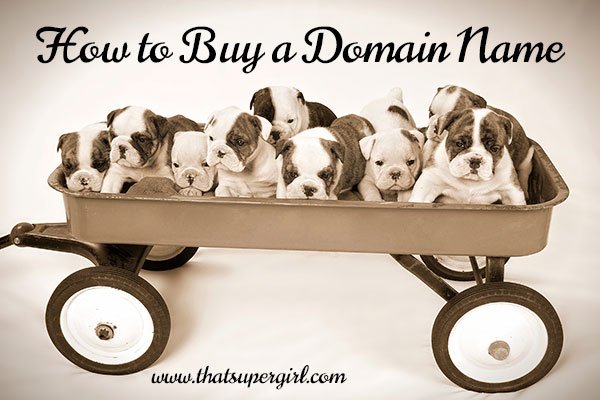 1. Buy your domain from a registrar.
This seems simple, but not following this rule is the #1 source of problems. A domain registrar is a company like GoDaddy (my registrar of choice), Enom, NameCheap, or Name.com. The prices vary, but in general any of those are fine.
DO NOT buy a domain from these sources:
Through a web site builder
Through a hosting provider
Through an advertising agency (like Yellow Pages)
Through a service provider (like Google Apps)
Through your developer or your designer (as in, your domain is in their account)
Through your assistant or employee
I have had clients go through all of the above routes with disasterous results — some of which could be fixed (albeit with a lot of time and frustration) and some could not (in the case where ex-employees or ex-developers stole the domain). Don't do what they did. Buy your domain through a registrar.
Note: I know there are mixed reviews on GoDaddy, but I use them for two reasons: 1) When I call someone for help, they pick up the phone. 2) They have great DNS control, which means I can easily separate off my e-mail traffic to Google Apps and web traffic to liquidweb (my web hosting provider) through the domain control panel.
2. Put all your domain names at the same place.
If you have ever played the consolidation game, you'll know why I say this — consolidating and transferring domain names later can be a giant pain.
3. Put all your domains in the same account.
I had one client with 8 different GoDaddy accounts — she basically made a new account every time she purchased a new domain name. The problem with this is that you're likely to miss a renewal notice if you don't keep your contact information current, and who wants to go update multiple accounts with multiple logins? If you have multiple accounts at the same registrar, they often have simple procedures for consolidating these.
4. Only buy a domain.
You do not need:
A hosting account,
Domain privacy,
E-mail add-ons,
And the 1,000 other things they will try to upsell you on.
Good domain registrars do one thing well — they register domains. They are generally NOT good web hosts or service providers. If you want hosting, buy your domain from a registrar and then go to a good host and buy an account there.
Domain privacy is one of those things that doesn't get you much, and it creates hassles later on if you want to ever modify your domain. If you are that worried about having your mailing address in your domain information, get a P.O. Box.
Has this happened to you?
I hope these four tips help anyone who is considering purchasing a domain in the future. But tell me, has this ever happened to you? Leave your comments below or on the Facebook page.
P.S. I don't really know what a wagon full of puppies has to do with domains either… but when I've been trying for months to get someone's domain back for them, thinking about puppies is much better than the pile of frustration I am going through.