NEW! The original post is from July 2014, but I've updated it to reflect my current plugin load.
I'll admit it: If you asked my friends, they might say that I'm a little anti-plugin.
While that is not entirely true, it does have some truth to it. The truth is that I am not entirely anti-plugin — I am just highly selective about which plugins I'll allow on my site.
The problem is that many people end up installing too many plugins (and slowing down their site), leaving their plugins for too long (and creating security risks with outdated plugins), or not checking the news on the plugins they are using (and leaving plugins on their site that are huge risks). When you consider that, it is better to have no plugins than it would be to have a whole hot mess of plugins.
But, I do use some plugins.
And I'm going to share with you which ones. A friend of mine once said that she loves advice from me because it seems like insider info — like she's getting the top secret sauce for her website, like she's part of my secret club. But you don't have to chat with me about your kid to get my tips, because I'm happy to share with everyone. (ha!)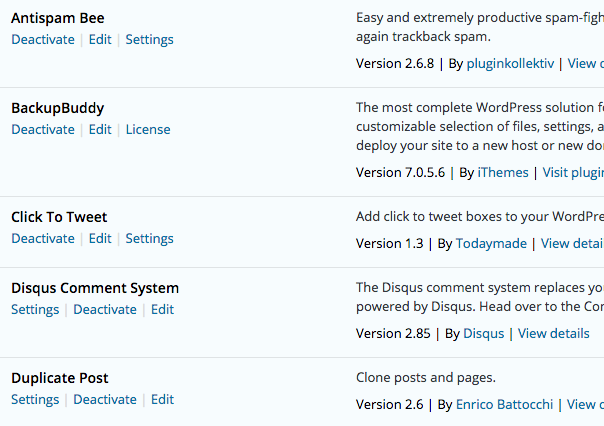 So here it is, That Super Girl's list of plugins:
Antispam Bee
I recently had an onslaught of spam comments on this site, during which I turned to Antispam Bee for help. Antispam Bee blocks spam comments and trackbacks effectively and without captchas. It is free of charge, ad-free and compliant with European data privacy standards.
Learn more about Antispam Bee »
BackupBuddy
BackupBuddy is what I use to make scheduled backups of my site. I use it for both database-only and complete site backups. It's reliable, offers many awesome options, and makes restoring from backup a breeze. You can also use it to push your backups to an offsite location, or download them to a hard drive. I put BackupBuddy on sites that I do a security audit for, as long as the hosting is high quality enough to allow it. I also rely on it as part of the triple backups for my fully managed WordPress hosting clients.
Learn more about BackupBuddy »
Click To Tweet
Click to Tweet makes it super easy to create tweetables in your posts using shortcodes, like this:
The plugin is both light-weight and well-made, so I trust it.
Learn more about Click to Tweet »
DISQUS
DISQUS is a comment management system. It reduces spam, allows your readers to be notified when you respond to their comments, and helps to create a larger conversation around your blog.
Duplicate Post
This plugin allows to clone a post or page, or edit it as a new draft. It's super useful when you're trying to clone a layout or create multiple similar landing pages. I use it often for my sales pages.
Learn more about Duplicate Post »
iThemes Security Pro
iThemes Security has completely redone its predecessor, Better WP Security. It is one of the best tools for me to be able to secure and monitor sites for any malicious activity such as logins attempts and malware injections. The settings can be a bit confusing, so take it slowly if you decide to install this — or get help with it!
Learn more about iThemes Security »
Monarch Social Media Sharing
Monarch gives me the floating side share buttons as well as buttons below each post and page. As the plugin is made by Elegant Themes, it works well with the Divi theme and child that I'm already using. Monarch is social sharing made easy, with options for many social networks and various configurations for your site. A few other free sharing plugins have come under fire recently for some sketchy practices, so I'm happy to use a paid plugin that is well-built for this purpose.
Yoast SEO
Yoast SEO is my favorite plugin for making your WordPress site search engine friendly and social media ready. It helps you analyze your site for keywords, create custom descriptions for Facebook, and establish basic rules for how your site is listed on search engines. I prefer it over many other plugins, and it also replaces the functionality of XML/sitemaps plugins (two for one!).
Learn more about WordPress SEO by Yoast »
Which plugins do you use? Feel free to ask questions about your plugins (or any plugins) below!