So you have a big launch coming up, and you have all of your materials and website ready to go. What is the next thing you do? You tell all of your contacts and friends about it and ask them to spread the word, of course! But how can you make that easier for them? Well, follow this post as your checklist for what you need to gather in order to enlist all of your friends to market for you on social media. (It also works for enlisting affiliates on your launch.)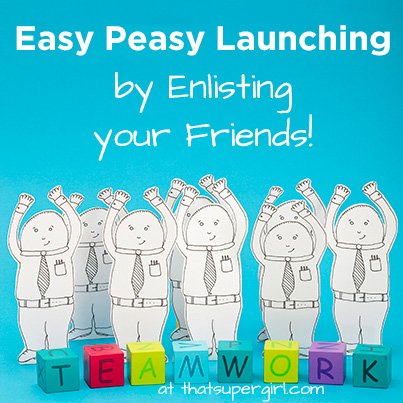 Facebook
To get your contacts to promote you on Facebook, you'll want to provide easy posts for them to make. Here is what you will need:
Tagging. I have gotten more new likes from another page tagging mine in the post than I have gotten from any guest post or appearance. Ask your list of launch helpers to like your page from their personal profile (if they will be mentioning you on their personal profile) or from their page (if they will be mentioning you from their page). To like your page as a page, they can use Facebook as their page by using the dropdown on the top right of their browser when they are looking at Facebook. Then, when they go to make the post, they can start typing "@your business name" and Facebook will fill in the rest with a tagged link.
An Unshortened URL An unshortened URL will allow Facebook to make a preview of the link for your course. It will also allow someone to make their own shortened URL if they need to make an affiliate link.
A Landing Page Graphic When you post a URL to Facebook, it will grab a photo from your page to use as the thumbnail for the page post. Make a nice graphic that will look good at 90×90 and put it on your page or add it as a specific thumbnail using a WordPress Facebook Thumbnail plugin.
A Facebook-Share-Ready Graphic I like to have a nice attractive graphic with my Facebook posts, so providing one to your promotional helpers would be a good idea. The ideal size is 403px by 403px for a timeline post and 843px by 403px for a featured/highlighted post. If you are providing the larger size, make sure the important part of the picture is in the center 403px in that graphic to make it work without cutting anything important off.
Twitter
If you want to spread the word about your launch on Twitter, use these suggestions to help your peeps get the word out:
Make Enough Tweets Twitter posts have less longevity than a Facebook post, and as such you will need more of them. Shoot for at least 5-10 tweetables.
Make Tweeting Easy Use a service like Click to Tweet to prewrite, link, and @ tag your tweets so one click is all it takes to tweet or buffer your marketing content.
Focus on Benefits Skip the vague tweets and random comments — focus on the results someone might get by clicking on the link such as "Master Google Analytics now! with this free guide" or "End work at home overwhelm with these 10 tips"
Provide the URL in 2 Ways Give your followers the full URL and a shortened version, so they can choose which will work best for them.
Tweet Your Own Posts Once your own posts are up, your followers can simply retweet them.
Pinterest
Pinterest isn't just for interior decorators or dress designers — anyone can use it for a variety of business interests. I love pinning business infographics but a variety of business topics (like this, this and this) are appropriate for Pinterest. To maximize your list's ability to promote for you on Pinterest, follow these tips:
Create a Pinable Image Use all the space available by making an image that is 554px wide by 600-800px tall. Infographics are great, but any image that has value in it or that is visually interesting will work.
Pin the Image Put the image up in your account, making sure it links back to the proper URL. This way, your followers can simply repin it.
Use a Pin It Button Put your image up on a web page and use a Pin It button on your site. (Click here and scroll down to "Pin It Button for Web Sites" for instructions.) Make sure you fill out all 3 boxes (landing page URL, image URL, and link description) to make your Pin It buttons work properly. Hint: You can paste the link code and the script code directly in a WordPress post if you are using the HTML (not the Visual) editor. If you need the Visual Editor to compose your post, do so — then click HTML Editor, paste your code, and Publish the post.
Time to Take Action
If you'd like to see how one person set up their sharing page, see this example from Natalie Sisson. Her Pinterest board for the same program is awesome.
If you would like to learn how to make promotional page for enlisting friends and colleagues to help market your launch, check out my upcoming workshop. Act quickly though, as this course is FREE but only available for a limited time!
If you have a question about launching or marketing, let me know!